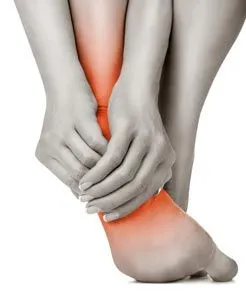 About 90 percent of people will recover from plantar fasciitis within a few months following conservative treatment.
Plantar fasciitis is one of the most common explanations of heel pain. It is caused by inflammation to the thick band that connects the toes to the heel bone, called the plantar fascia, which runs across the bottom of your foot. The most common cause of plantar fasciitis is malfunctioning foot or skeletal system. There are many situations when the plantar fasciitis is only the symptom and the cause can be far removed from the foot. An uneven pelvis caused by a short leg is one example. Uneven stress is put on one foot causing more weight on that foot, thus stretching the plantar fascia, creating inflammation and even a heel spur. Plantar fasciitis is most commonly seen in runners, pregnant women, overweight people, people with an anatomical or functional short leg on one side and individuals who wear inadequately supporting shoes. Plantar fasciitis typically affects people between the ages of 40 and 70.
Symptoms


Plantar fasciitis commonly causes a stabbing pain in the heel of the foot, which is worse during the first few steps of the day after awakening. As you continue to walk on the affected foot, the pain gradually lessens. Usually, only one foot is affected, but it can occur in both feet simultaneously.
Diagnosis
To diagnose plantar fasciitis, your doctor will physically examine your foot by testing your reflexes, balance, coordination, muscle strength, and muscle tone. Your doctor may also advise a magnetic resonance imaging (MRI) or X-ray to rule out other others sources of your pain, such as a short leg, pinched nerve, stress fracture, or bone spur.
Treatment
Treatment for plantar fasciitis in our office includes chiropractic adjustments, cold laser, stretching and strengthening exercises, natural plant based anti-inflammatories, foot taping and ice treatment. Depending on the severity of your plantar fasciitis, we may prescribe an orthotic (arch support) or custom-fitted orthotic to help distribute your foot pressure more evenly
The Plantar Fasciitis Solution
Call us at (609) 484-9300.
Or click the link below to schedule an appointment.
http://www.drgitto.com/appointment
You can also visit us on the web at www.drgitto.com/
We can help you live an active-healthy lifestyle and enjoy every season of life.
Like our Facebook Page and Share!
https://www.facebook.com/GittoAdvancedChiropractic/