Cold Laser Therapy: What Is It and Can It Work For Me?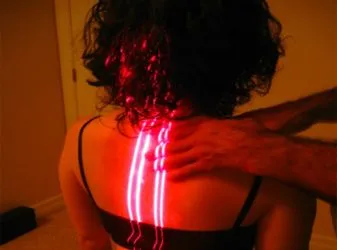 Cold laser therapy is growing in popularity in Northfield, NJ, as a way of managing pain. If this sounds like a good treatment for you, let Dr. Joseph Gitto of Gitto Advanced Chiropractic and Nutrition examine you and tailor a treatment plan.
What Is Cold Laser Therapy?
This is a form of therapy that treats damaged tissue using low light levels. This light penetrates the skin down to the targeted areas where it is absorbed. That absorption speeds up the production of a chemical compound called adenosine triphosphate. This is the compound in charge of fueling the cellular processes in the body. Apart from providing the cells with an energy boost, those electromagnetic photons also enhance blood circulation, which causes tissues to heal faster.
Cold laser therapy can be used to relieve pain caused by many conditions, including:
Muscle strain
Sports injuries
Soft tissue injury
Arthritis
Ligament strains
Fibromyalgia
Acute and chronic pain
How Is Cold Laser Therapy Performed
Your specialist will target the area suffering from pain or affected by your condition. They apply the laser so as to repair damaged tissue underneath the skin. You should know that different body parts might require different degrees of penetration by the laser. This can easily be achieved because the laser is not hot enough to damage the surrounding tissues.
Even though you will feel the laser device on your skin, this is a non-invasive and painless procedure. Usually, the treatment will take a few minutes, and you can return home.
Most people are embracing cold laser therapy because it is non-toxic, safe, non-invasive, and reduces the need for surgery. This alternative form of treatment is versatile as it reduces inflammation, promotes natural healing, and breaks up scar tissue. Patients that undergo this type of treatment enjoy reduced healing time, allowing them to get back to their lives.
Is Cold Laser Therapy for You?
Cold laser therapy is growing in popularity and has even been approved by the FDA to treat several conditions. And when performed under a qualified practitioner like Dr. Gitto, this procedure is safe. You also don't require preparation or medication to undergo the procedure.
If you are seeking a painless and non-invasive method to heal a wound or alleviate chronic pain in Northfield, NJ, you are a good candidate for cold laser therapy. Note that it will take several doctor visits before you can completely experience pain relief. For acute conditions, you may need about six sessions or fewer, while for serious conditions, you may need up to 15 sessions. Dr.Gitto will advise depending on the condition.
Do you feel like cold laser therapy can help alleviate your pain? Contact Gitto Advanced Chiropractic and Nutrition at (609) 484-9300. Dr. Joseph Gitto will examine you and tailor a treatment plan for you.
As a Chiropractor, we have used cold laser therapy to promote accelerated healing with some of the conditions related to:
Neck and Low Back Pain
Shoulder Problems: Bursitis, Tendonitis
Rotator Cuff Injuries
Carpal Tunnel Syndrome,
Ulnar and Cluneal Nerve Entrapments
Knee Pain: Ligament and Cartilage Tears,
Plantar Fasciitis, Ankle Sprains
Scar Tissue Repair and Scar Related Pain
Wound Healing, Fracture Healing
Muscle Injuries, Tears, Sprains
Arthritis
Nerve Pain
Sinusitis
TMJ
Is Cold Laser Therapy Right for You? The use of cold laser therapy is growing in traditional medical practice and as complementary or alternative therapy. Under the care of a doctor or qualified practitioner, cold laser therapy is considered safe. Also on the plus side, it's noninvasive, painless, and there's no need for medication or other preparation. There are generally no side effects or reported adverse events.
Interested in cold laser therapy, click here to schedule a free consultation today.
Dr. Joe Gitto, BA, DC, CFMP, FDN
Advanced Chiropractic
Certified Functional Medicine Practitioner
Functional Diagnostic Nutritionist

Visit our website at www.drgitto.com
Like our Facebook page https://www.facebook.com/GittoAdvancedChiropractic
We can help you live an active-healthy lifestyle and enjoy every season of life!